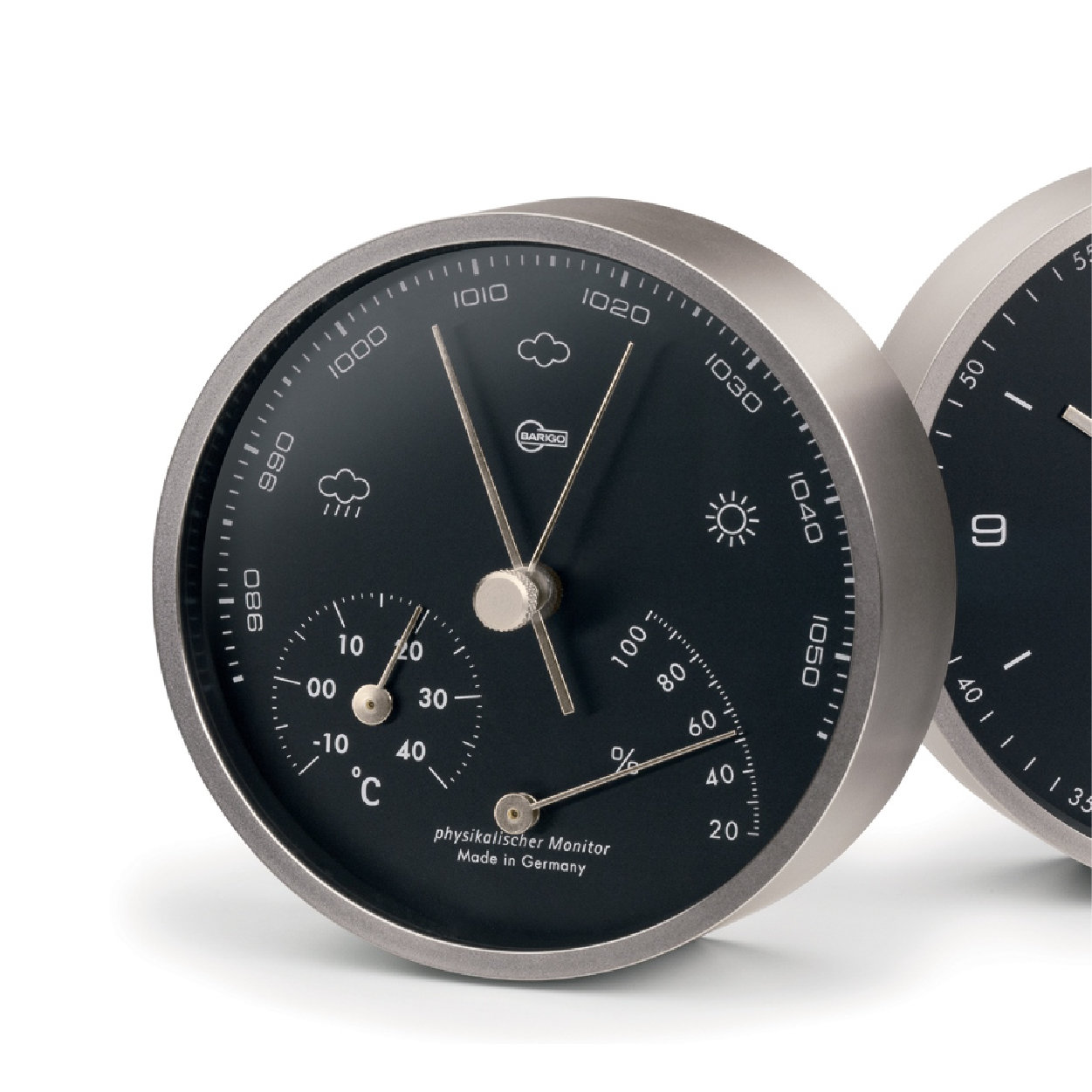 Barigo 101.5 3-in-1 Modern Home Barometer
SKU 101.5LA
Product Details
Barometer, thermometer, hygrometer - nickel plated brass, black dial (suitable for desktop or wall mount)
Low altitude and high altitude versions available.

Barometer
- Dial from 980...1050hPa
- Resolution 1hPa
- Accuracy: +/- 2 hPa (in the range of 980 ... 1030 hPa)

Thermometer
- Dial -10 Degree Celsius...40 Degree Celsius
- Resolution 1 Degree Celsius
- Accuracy: +/- 1 Degree Celsius

Hygrometer
- Dial from 20% RH...100% RH
- Resolution 2% RH
- Accuracy: +/- 5% RH (in the range 40 ... 70%)

Casing
- Material: nickled brass
- Rounded edges
- Measures: 104 x 35mm
- Plexiglas with pointer
- Weight: 300g

Packaging
- Gift box
- Weight: 360g gross

MADE IN GERMANY
Quality begins with the choice of the correct material: all Barigo measuring instruments are professionally manufactured from the highest quality solid materials. These range from long-life and resistant plastics, to chrome and stainless steel as well as solid brass.

Beautiful design makes for classical measuring instruments that are functional and aesthetically appealing articles of daily use. Precise, reliable function, clever design, sturdy construction and uncompromisingly workmanship - a Barigo instrument means quality and longevity you can feel.
Save this product for later